Hi Everyone!
Welcome to Brazil! =)

Yes, that's right! Today it marks 1 month I've been in this beautiful and fun country.
I will be here for a few months working on some new projects and of course my MUSIC!
Here is what I have been up to in case you missed something.:
RG 15th Anniversary Party at Love Story:
RG is a super hyped Brazilian website/blog that talks about a wide range of topics, including Lifestyle, Culture, Fashion, Art and Music.
Check out the full story and all the photos HERE.
Marcelu Ferraz Men's Reception Party:
Marcelu Ferraz started with Women's wear a few years ago and is now expanding his talent into Men's wear. The pieces are sporty but in a very modern and colorful way. I met Marcelo himself at the release of his new collection and fell in love with so much talent and looks! =) Check out some photos and the party reports HERE.
Tô Ryca Pre Release Screening:
Tô Ryca is a Brazilian comedy movie that talks about Selminha played by actress Samantha Schmutz, a girl from the Favela who is not happy or comfortable with her destiny of being poor. She suddenly becomes rich but to stay so she has to go through a test of spending a huge amount of money everyday during a whole month.
I would really like all of you to find a way to find it with English subtitles. It's too much fun and really well produced! The pre release screening was held at Iguatemi Shopping last Tuesday, 13th. Check out all the celebs who attended HERE: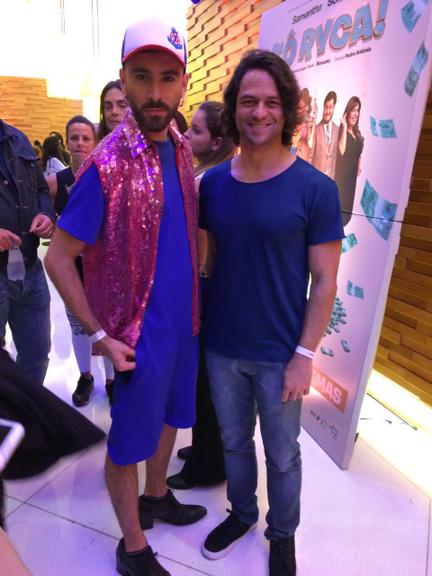 Guys, that's it for now. I hope I can keep sharing my Brazil with all of you.
I LOVE you all and thank you for the continuous support!